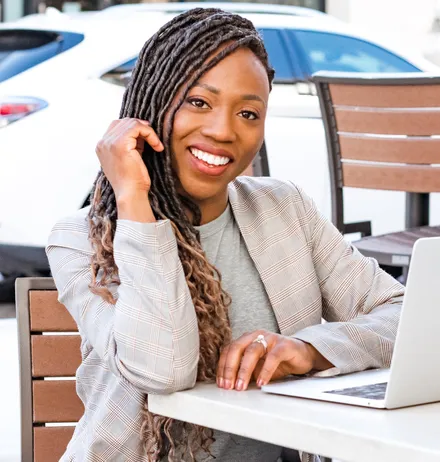 join the waitlist for
the
Side Business Lab
A guided blueprint for validating, building, launching and landing your first online business customer.
The Side Business Lab is a program that not only shows you exactly how to build your online business but also shows you how to repeatedly get customers WHILE working your 9-5.
By the end of this program you will have:

Selected and Validated your business idea
Instead of spending yet another year just thinking about it, let's create a compelling business that will solve a problem for your ideal customer.

Locked in your early adopters
Before investing anymore time on your business idea, lets make sure your ideal customer would actually open up their wallets to pay for your solution.

Built an MVP a.k.a. a basic form of your business
Perfection is a form of procrastination! We'll craft a minimal version of your business that just WORKS. No need for bells and whistles at this stage.

Created a marketing plan
This is probably the first time you're creating an online presence for a business. We'll craft a plan for you to attract customers and build a tribe around your business

Launched your Business
You'll need a plan to "open the doors" of your online business. It's not enough to pop out of your desk and scream "I'm here!" There's a process and we're going to work through it.

Landed your first customer
A business, especially one you're growing on the side, needs to make money. We'll teach you a repeatable process for landing customers.
Even more importantly...
The Side Business Lab will give you the roadmap to confidently build a business that will help you fund the lifestyle you've been dreaming of. Most times, that lifestyle will require multiple streams of income.
Be First to Know When The Doors to the Side Business Lab Open!!
Get on the VIP waitlist for the Side Business Lab. As a VIP, you'll be notified as soon as we're accepting new members and will receive early bird bonuses before anyone else!
DISCLAIMER
EVERY EFFORT HAS BEEN MADE TO ACCURATELY REPRESENT OUR PRODUCTS AND THEIR POTENTIAL. EVEN THOUGH THIS INDUSTRY IS ONE OF THE FEW WHERE ONE CAN WRITE THEIR OWN CHECK IN TERMS OF EARNINGS, THERE IS NO GUARANTEE THAT YOU WILL EARN ANY MONEY USING THE TECHNIQUES AND IDEAS IN THESE MATERIALS. EXAMPLES IN THESE MATERIALS ARE NOT TO BE INTERPRETED AS A PROMISE OR GUARANTEE OF EARNINGS. EARNING POTENTIAL IS ENTIRELY DEPENDENT ON THE PERSON USING OUR PRODUCTS, IDEAS, AND TECHNIQUES. WE DO NOT PURPORT ANY OF OUR PRODUCTS TO BE A "GET RICH SCHEME."
ANY CLAIMS MADE OF ACTUAL EARNINGS OR EXAMPLES OF ACTUAL RESULTS CAN BE VERIFIED UPON REQUEST. YOUR LEVEL OF SUCCESS IN ATTAINING THE RESULTS CLAIMED IN OUR MATERIALS DEPENDS ON THE TIME YOU DEVOTE TO OUR PROGRAMS, IDEAS, AND TECHNIQUES MENTIONED, YOUR FINANCES, KNOWLEDGE, AND VARIOUS SKILLS. SINCE THESE FACTORS DIFFER ACCORDING TO THE INDIVIDUAL, WE CANNOT GUARANTEE YOUR SUCCESS OR INCOME LEVEL, NOR ARE WE RESPONSIBLE FOR ANY OF YOUR ACTIONS.
MATERIALS IN OUR PRODUCTS AND ON OUR WEBSITE MAY CONTAIN INFORMATION THAT INCLUDES, OR IS BASED UPON, FORWARD-LOOKING STATEMENTS WITHIN THE MEANING OF THE SECURITIES LITIGATION REFORM ACT OF 1995. FORWARD-LOOKING STATEMENTS GIVE OUR EXPECTATIONS OR FORECASTS OF FUTURE EVENTS. YOU CAN IDENTIFY THESE STATEMENTS BY THE FACT THAT THEY DO NOT RELATE STRICTLY TO HISTORICAL OR CURRENT FACTS. THEY USE WORDS SUCH AS "ANTICIPATE," "ESTIMATE," "EXPECT," "PROJECT," "INTEND," "PLAN," "BELIEVE," AND OTHER WORDS AND TERMS OF SIMILAR MEANING IN CONNECTION WITH A DESCRIPTION OF POTENTIAL EARNINGS OR FINANCIAL PERFORMANCE.
ANY AND ALL FORWARD-LOOKING STATEMENTS HERE, OR ON ANY OF OUR SALES MATERIALS, ARE INTENDED TO EXPRESS OUR OPINION OF EARNINGS POTENTIAL. MANY FACTORS ARE IMPORTANT IN DETERMINING YOUR ACTUAL RESULTS AND NO GUARANTEES ARE MADE THAT YOU WILL ACHIEVE RESULTS SIMILAR TO OURS OR THE TESTIMONIALS OF OUR CUSTOMERS. IN FACT, NO GUARANTEES ARE MADE THAT YOU WILL ACHIEVE ANY RESULTS FROM THE IDEAS AND TECHNIQUES IN OUR MATERIAL.