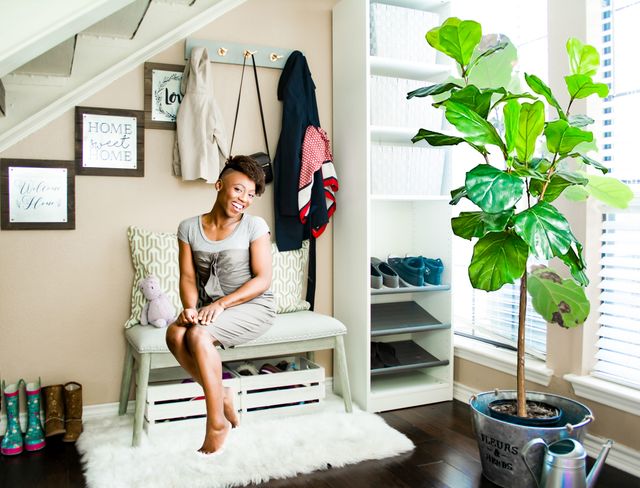 Turn Your Under Stairs Space Into A Mudroom
Feb 7, 2019
A mudroom is a crucial space to have in your home especially if you have kids. Also, for someone who works from home, I can't stand to see a messy space in my home. It just messes with my productivity. Our home didn't come with a mudroom and since the space under the stairs is right off the garage, it became a natural space for everyone to drop their shoes and coats whenever they got back home.
For my sanity, I set out to organize the space and turn it into a functional mudroom. If you're interested in recreating a similar space, you can download the shopping list here.
Keep reading to see details on all the pieces I purchased.
The two pillows and this bench are from Home Goods as well. Although the bench is standard height, my girls are able to sit on it as they take off their shoes. My 3-year-old usually leaves her bear on the bench so it's the first thing she sees when she gets back from school.
I found this wall decor months after the mudroom had already been put together. It was one of those things that I didn't think I needed until I came across them at Ross.
I picked up this arrow motif coat rack for $25 at Home Goods. I painted the wood backing grey and spray painted the arrows gold to match the look I was going for.
The wooden shoe crates are always so full of shoes but it's nice that we can tuck them all away under the bench. Definitely a great solution to having shoes strewn all over the entryway floor.
These storage baskets from Tuesday morning have been a great place to store extra diapers and wipes so we can grab them on our way out. We are officially out of the diaper stage now so we'll have to find other uses for these bins. We're trying our best not to let them become junk holders.
I can't wait to see how your mud rooms turn out. Tag me in your pictures on Instagram!