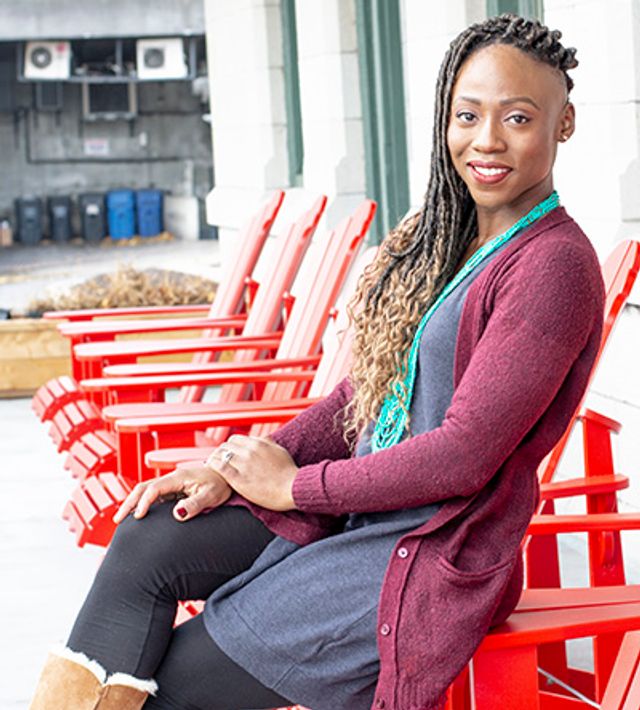 Episode 012: Top 10 Tools I Have Found Helpful As A New Entrepreneur
Nov 15, 2018
Podcast: Play in new window | Download
Today I'm talking all about the top 10 tools and services I have found to be must-haves for me as a new entrepreneur. I know some of you have asked me about how I record this podcast, who takes my pictures, my website and so much more. Today, I'm answering some of those questions. There has definitely been a learning curve with running my own business but here are some of the tools that have helped to flatten the curve for me. Hopefully, you are able to pick up a few tools for your own arsenal. Let's dive right in.
TOOL #1: 1WordPress
I built my website, serwaaadjeipelle.com, using the WordPress platform. It's very user-friendly and with the power builder feature, you can simply drag and drop modules to build your site. If you're trying to get fancy, there are so many online resources and free plugins that non-technical people like myself can use build a beautiful site.
Like with any new tool, it takes some getting used to. But I will say that it becomes pretty intuitive the more you use it. The other great thing about Word Press is they have a free version you can use while you're setting up your site. As always, there's a catch with free versions. With the free version, you won't be able to use your own custom domain name or upload templates you purchase on other sites.
Right now, my website is a digital hub for my consulting business, any free resources I offer, the challenges I run, my blog and this podcast.
The second app and actually the next 4 are tools I use for my podcast.
TOOL #2: Calendly
This is an automated scheduling software I use to schedule meeting times. Instead of going back and forth on availability via email, I include a custom link on my initial email correspondence asking guests to select a time that works best for them. If you've ever set up time for a free virtual coffee chat with me, you would have done it via the Calendly link on my website's About Me page or on my social media profiles.
A nice feature of the app is that it allows me to block off my calendar. So if you're big on batching, you can narrow down your availability to a specific day or even time of the week. As you'll see with many of these apps, there are free versions and paid versions for additional features.
TOOL #3: Garage Band for podcast editing
This is the software I use to edit the podcast. And it comes free Apple phones and computers. You'll hear this referred to as a digital audio workstation (DAW). So if you don't have a MAC, feel free to search for a windows alternative like Audacity. For the actual recording part, I use a:
Blue Yeti USB Microphone
Headphones
Knox Pop Filter to soften the thudding from B and P Sounds as you speak
TOOL #4: Zoom
I use Zoom to record all my interviews. The great thing about this tool is that it gives you a separate audio track for each speaker as well as a video file which I use for the clips you see on social media. This is also the tool I use for client meetings. Unlike Skype, they don't have to remember the log in info for an account. Each meeting has a unique link that I share with whoever I'm meeting with. Some other features include screen sharing and having multiple people on the line.
TOOL #5: Blubrry
This is the tool I use to launch and push my podcast to iTunes and google podcasts. It has a really intuitive free plugin on WordPress that allows you to release your podcast episodes as media attached to a blog post. And the blog post is the show notes we use for the podcast.
TOOL #6: Fiverr
This is a service where you can get almost anything created for five dollars by creatives all over the world. I used this site to create the logo for my site and am currently looking for someone to create some specific graphics for me. I used this service to create the logo you see on my website. Of course, 5 dollars will only get you very basic services. Depending on what you need to be created, prices go up but I find they are still reasonable.
TOOL #7: Adobe Creative Suite
Now, this set of tools starts to get into the more professional side of things but with all the Youtube videos out there as well as Adobe resources. You can learn how to use them fairly quickly. As far the pricing goes, you no longer have to buy these outright one at a time. I remember when I had to pay $250 for the student version of these. Now Adobe has gone to a month to mouth model so, for about $30 a month depending on your tier, you can gain access to these more professional tools.
Photoshop – editing photos, removing backgrounds
Lightroom – applying presets especially to a large number of pictures and refining the look of the images
InDesign – designing anything that requires a layout like magazines, PDF downloadable resources you're offering, graphic layouts for social media as and much more. Canva is actually a good free alternative to Indesign for graphic layouts if you're not ready to invest in this tool yet.
Premiere Pro CC – This has been a great tool for editing videos. I'm still new at this but given that I've used other adobe tools for years, it was fairly easy to pick up.
I've actually been using Adobe since high school. I big shout out to Ms. Brooks you managed the school newspaper. We used Adobe's creative suite to payout the school newspaper and edit photos. And I remember Kelly the outgoing editor trained me before she graduated. The woman was sooooo meticulous and detailed that I learned everything I need to know to be a successful editor. Who would have know that years later I would now be using these same tools for my business.
TOOL #8: Google Forms
This is Google's free response to the Survey Monkey. I've used it to gather feedback for the app I'm launching as well as to create forms for potential clients to fill out.
TOOL #9: Nikon D5200 Digital SLR Camera
I get asked who takes my pictures. For the most part, I take the pictures on my social media using a Nikon D5200 Digital SLR Camera. This is a fairly entry level camera that I have used for 5 years now. The package came with two zoom lenses and about a year ago I invested in a 50 mm lens which has quickly become my favorite. My husband gave it to be as a birthday present two days before our first daughter was born. Like any new mom, I wanted to document everything about this new experience. Five years later I'm still using it record videos and take pictures. I'm happy to do a more detailed blog post or episode on other photography related tools I use as well as my little in-home studio set up.
TOOL #10: OBS
Have you ever seen anyone hosting a live stream session with slides or images that they drop in as they speak? You've probably seen this on Facebook lives, Twitch, Youtube or Periscope live streaming. Well this is a free tool that allows you to do that create branded livestreams with visuals. The best past is that it's free and opensource.
There you have it! The top ten tools and services I have found helpful as a new entrepreneur. I would love to hear if you have had any experience with these tools and services and if you have any others you love to use.
Listen on Apple Podcasts
Announcements:
Thank you so much for supporting our podcast. Don't forget to rate, subscribe and continue sharing us with your friends and families.
Thank you so much for listening!
Subscribe on Apple Podcasts, join our Facebook community, and follow us on Instagram!
If you have any general questions or comments for the show, click here.
#ShesOffScript